The most recent rerelease of this 1950 Prestige session is on an Original Jazz Classics CD (Concord's reissue label - they currently own the Prestige catalog) along with some of the classic Gerry Mulligan/Chet Baker quartet recordings. Most of the consumer reviews on Amazon praise the quartet sessions, understandably, but then they tend to say some variation of "oh, and there's also some stuff by a big band."

I wonder if it had been called the Gerry Mulligan Big Band, would that have earned it more respect? But this is a terrific band, a terrific group of songs.
Arranged by Mulligan? Probably. Maybe. There's no arranger credit for the session, but at this stage of his career Mulligan was better known as an arranger than as a saxophone player, and it's likely that if he was on the session, he'd also have been hired to arrange. Some of the tunes certainly sound like Mulligan arrangements, some not so much. We know that Al Cohn did some arranging for the 1949 version of the Chubby Jackson Big Band, and Tiny Kahn was its chief arranger, so one or both of them may have had a hand, although neither played on this date.
Big band bebop is almost an oxymoron. Bebop was a product of the breakup of the big bands, a style that favored listening over dancing, extended virtuoso solos over ensemble section play. But it was always part of the scene. The Billy Eckstine band hired Dizzy Gillespie and Charlie Parker; also a Miles Davis, Fats Navarro and Dexter Gordon. Gillespie had his own big band. The Woody Herman Herd, where Chubby Jackson got his start, wasn't exactly bebop, but it wasn't exactly the swing of the Thirties, either.
And this band of Jackson's is as good as a bebop big band gets. It has swinging but ambitious ensemble parts, lots of room for experimental solos.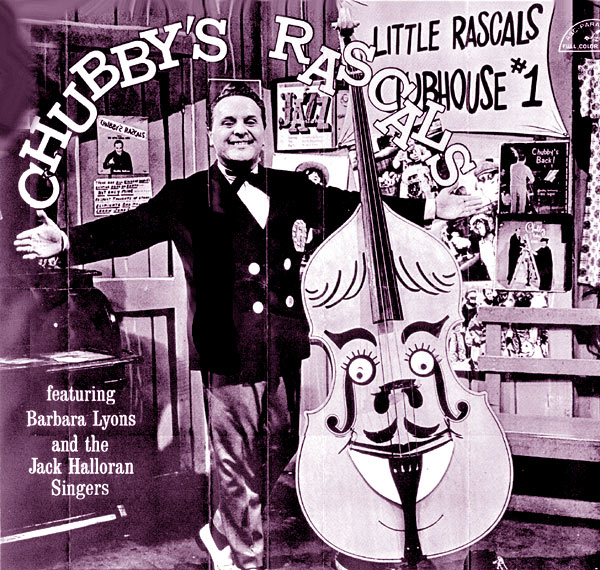 Chubby Jackson himself had a checkered career (note to self: when you make an accidental bad pun, for God's sake take it out in the second draft! Reply from self: What second draft?) -- anyone who has performed with both Louis Armstong and Lennie Tristano has run a fairly complete gamut, and let's not forget his twist album. And he's probably the only serious jazz musician who was also a TV kiddie show host (Chubby Jackson's Little Rascals).
I listened to these sides a couple of times before I really looked at the lineup of musicians. I'd noticed that Mulligan and Zoot Sims were included, hadn't paid close attention to the others. So when I found myself particularly taken by the piano solos, I went back to see which of the bebop legends Jackson had recruited for this date, I was surprised to find a name I'd never heard: Tony Aless. But Aless did some impressive work, going back to Bunny Berrigan in the Thirties, and including sessions with Woody Herman, Stan Getz and Charlie Parker.
Peter Jones, who knows more about jazz than I do, was familiar with Aless, but asked, "who is Charlie Kennedy on alto-- he sounds a lot like Lee Konitz?"
So many great jazzmen who didn't break through to create major names for themselves. Charlie Kennedy started with Louis Prima, went on to become a soloist with Gene Krupa's big band. His last major gig was with Terry Gibbs' Dream Band, before he retired from music in the early 60s.
The rest of the band is a dream band, and they play like it.
"I May Be Wrong," which Mulligan was later to recreate as a cool, wryly romantic ballad with his quartet, is given as a joyous romp here - with Mulligan's fingerprints on it. "Sax Appeal" has some particularly appealing work between ensemble and soloists.
And what's this number called "So What"? It appears to be a Mulligan composition. Surely it's a Mulligan arrangement. The notes say it is not the composition of the same name by Miles Davis for the "Kind of Blue" album, and certainly there's a world of difference between the hip, cool modality of the Miles Davis number and this piece of beboppery. You could say that the Davis piece makes the Jackson band's piece sound old-fashioned, except it doesn't -- bebop still has the freshness and power to excite, and so does Mulligan at every phase of his career.
Here's "So What," from a new site to me, but it looks like a good one, called
Jukebo
. I can't seem to get their embed code to work, so I'm just providing a link. In this version, the song has a subtitle, "Hoo Hah," which I suspect is to differentiate it from the Davis number.
Prestige issued these as 78s on both Prestige and New Jazz, with records credited variously to Jackson, Mulligan and Zoot Sims, then on 45 RPM EPs and a 10-inch LP, and finally as part of a 7000-series LP called Chubby Jackson Sextet and Big Band -- nice of them to give the credit to Jackson, as Mulligan by then was by far the bigger star.