W

ardell Gray is known to aficionados of American literature as being one of the jazz musicians mentioned in Jack Kerouac's On The Road, along with George Shearing, Slim Gaillard, and Dexter Gordon, with whom Gray's name is forever linked as one of the great tenor sax pairings in jazz history.
He was known to younger musicians on the West Coast as a role model for music...and more:
After Bird, the skinny tenor man from the Billy Eckstine band was the musician most admired and respected by the younger players. He spoke quietly and articulately, admired the philosophy of Jean-Paul Sartre and the politics of Henry Wallace, boosted the NAACP and advised fledgling jazzmen on music and life, particularly in regard to the futility of messing with drugs.
But he is most importantly known as a musician's musician, a man who could--and did--play with mastery in any style, from swing to rhythm and blues to be bebop. Benny Goodman, who at first rejected the new music, had his opinion changed by one man:
If Wardell Gray plays bop, it's great. Because he's wonderful.
And when Goodman experimentally formed a bebop group (they played good music, but no one wanted to hear
Goodman play bebop, and he abandoned the experiment), Wardell Gray was the first person he hired. In fact, Gray is most likely the only musician to have recorded with Benny Goodman, Count Basie and Charlie Parker.
Most famously, as a West Coast tenor player energized by Charlie Parker's ill-fated California tour, he engaged in a series of tenor battles that were captured on wax in "The Chase."
And perhaps second most famously, from his first session for Prestige, "Twisted," which became another vocalese hit, this one for Annie Ross, and later Bette Midler.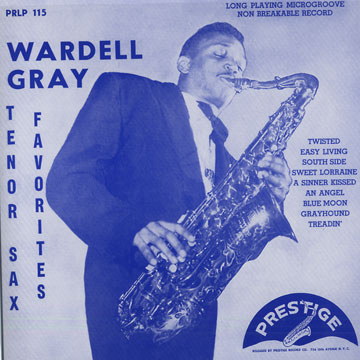 Gray was mostly known as a West Coast musician, but he did spend enough time in New York to cut a few sessions for Prestige. This first one, with as classic a bebop rhythm section as one could wish for, includes "Sweet Lorraine," "Southside," "Twisted," and "Easy Living." They capture everything that was great about Grey: lyricism, edginess, tone, inventiveness. And this is the sort of album that I started this blog looking forward to finding: brilliant musicians, a tight group, inspired blowing, spontaneity.
These four tunes were originally released by Prestige on their New Jazz 78 RPM series (817 and 828). and Southside/Sweet Lorraine also on a Prestige 78 (711). They were part of a 100-series 10-inch LP (

Prestige PRLP 115--

Wardell Gray Tenor Sax

) and later on a couple of 7000-series albums, including the very complete

Wardell Gray Memorial Album

(
PR 7343). All of Gray's work can be found on Spotify, and he's well represented on YouTube. Here's "Twisted."
And here is a segment from the documentary on Gray, Forgotten Tenor.