Well, it seems that for the nonce, we can't get away from Scandinavia. I'm moving on today from a Danish expat in New York to a New York expat in Sweden: James Moody.
But we're not leaving behind the bad bop puns -- or, for that matter, the boppified classics. One of Moody's cuts here is "Flight of the Bopple Bee."
Stan Getz is forever linked with "Desafinado" and "Girl From Ipanema." Louis Armstrong? If you don't know anything else, you know "Hello Dolly" and "Wonderful World." Kai Winding may be most often remembered for his minor hit recording of "More (Theme from Mondo Cane)."
But possibly no other jazz musician, at least no other jazz musician with a lengthy and distinguished career, is as inextricably linked with one recording as James Moody and his classic "Moody's Mood for Love."
And that's interesting for a couple of reasons. First, his inextricable linkedness is not even due to his own recording, as good as it is -- it comes from the vocalese version by King Pleasure and Blossom Dearie (also on Prestige, so we'll get to that later). And for that matter, Moody passed up the pun on his name that would become iconic.
Second, and I hadn't realized this, the recording was made with an all-Swedish band of sidemen.
James Moody entered the studio in Stockholm on October 7, with a group he called James Moody's Swedish Crowns: Leppe Sundevall (tpt), Arne Domnerus (as), James Moody (ts), Per-Arne Croona (bar), Gosta Theselius (p), Yngve Akerberg (b), Anders Burman (d). They cut two songs -- "These Foolish Things" and "Out of Nowhere." "These Foolish Things" is a ballad, showcasing Moody's lyricism, and trying out a lot of ideas that would be developed and used again in "I'm in the Mood for Love."
On October 12,
jazzdisco.com
credits him with three different recording sessions, so either someone got the dates wrong, or quite possibly, it was a heavy work day for Mr. Moody. The first session is the James Moody Quintet, with Sundevall, Thore Swanerud (p). Yngve Akerberg (b), Jack Noren (d), and the numbers are "Flight of the Bopple Bee" and "I'm in the Mood for Bop" -- not the pun you were expecting, and not the song you were expecting, either. That comes later. "I'm in the Mood For Bop" is bebop, uptempo and bracing.
Then, still October 12, another session with the Swedish Crowns - same front line, Swanerud, Akerberg and Berman as rhythm section, and one with the James Moody Sextet (same without Theselius on tenor), and the songs are "Body and Soul," "I'm in the Mood for Love" (yes,
that
version), and "Lester Leaps In." All of this is a listening delight, but on "Lester Leaps In" you can hear the Swedes trying to be the Basie horn section and falling a little short.
A word on improvisation. It's not "just making it up as you go along," unless maybe you're Keith Jarrett. and it's not going to be entirely new every time. If Lester Young is playing a series of one-nighters with Count Basie, and he gets to the point where he stands up to play his solo on "Lester Leaps In," it's going to be more or less the same solo, with variations. So it's interesting to compare two totally different versions of the same song, done in the same recording session. "These Foolish Things" is closer to "I'm in the Mood for Love" than is "I'm in the Mood for Bop." Check it out. All are available on Spotify, as is yet another version from the same time period, "Moody's Mode."
"I'm in the Mood" became "Moody's Mood" when Eddie Jefferson wrote lyrics to it, and most famously when King Pleasure recorded it.
In an essay on rhyme, the poet Donald Justice points out that while rhyme is a great mnemonic, it's not enough to make something rhyme to make it memorable. It has to be true, too. "Red sky at night / Sailor's delight / Red sky at morning / Sailors take warning" has a catchy rhyme, but no one would remember it if it weren't also useful meteorological advice to sailors.
And such is also true for "Moody's Mood." Just setting lyrics to a jazz improvisation is no guarantee of immortality, It has to be the right tune, and "Moody's Mood" is. It is so lyrical, so melodic, so inventive. More about it later, since King Pleasure's version was also recorded for Prestige, but I will add that Moody himself did the vocal version many times later, including this -- one of my favorites -- with Tito Puente:
Here's James Moody talking about the famous "There I go, there I go, there I go..." opening -- just trying to learn how to find the notes on an unfamiliar alto sax.
And finally, just because it's so cool: From jazzcollector's website, an autographed copy of the original 78, which jazzcollector has no recollection of actually collecting, but there it is: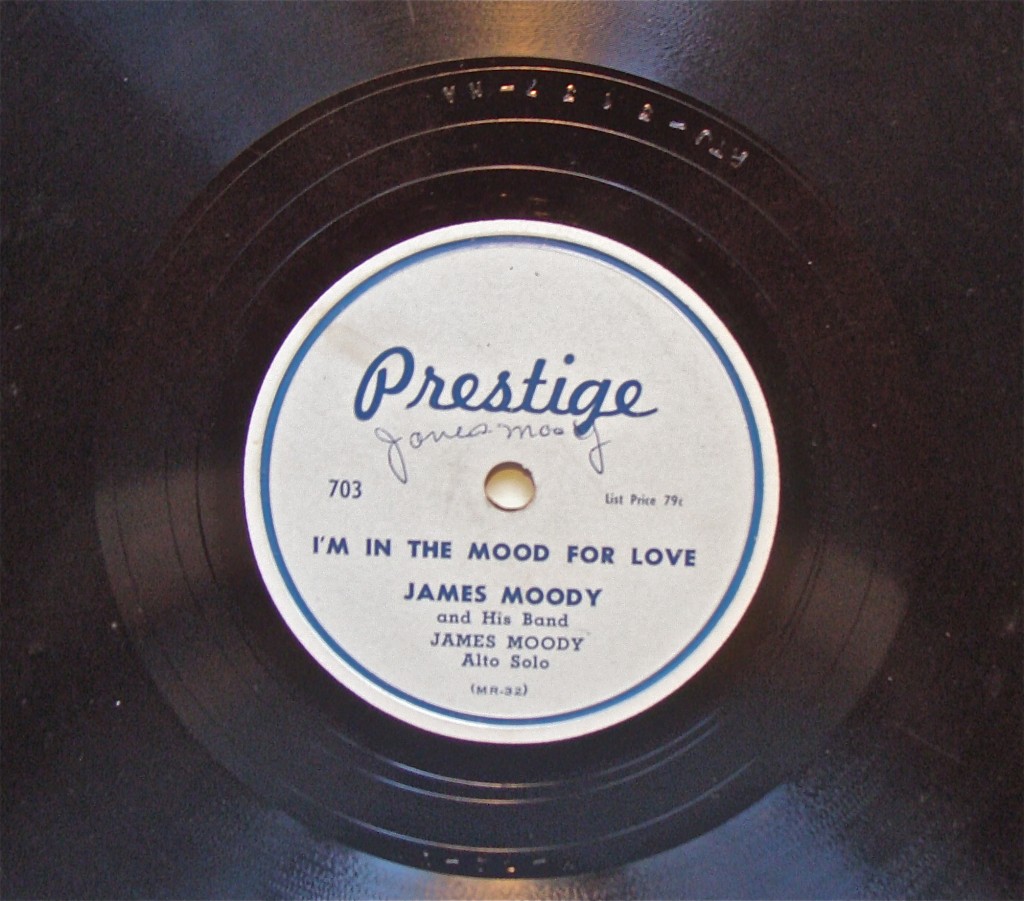 A week later, Moody came back and recorded two more sides with a quartet billed as James Moody and his Cool Cats: "Over the Rainbow" and "Blue and Moody."
Originally issued on the Swedish Metronome label, these sides were brought out by Prestige on 78 RPM, 45 RPM EP, and in various LP collections.