Still reading Blue Note Records, by Richard Cook, and thinking about my jazz experiences in those years. People love to play the game of "What era would you like to go back to, if you could travel in time?" and mine, oddly enough, is so close to the era I was born in, I could reach out and touch it. I'd like to have been 25 in the 1940s --( well, 30 and 4F, but it's my time travel, and I'm being selective in my wishes).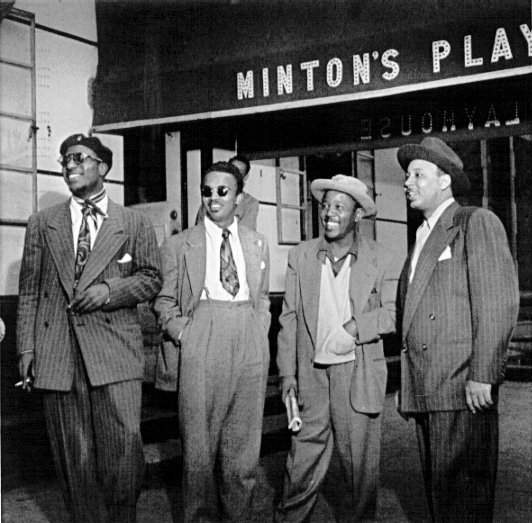 I'd like to have been around at the birth of bebop, to hear Charlie Parker playing on 52nd Street. I picked 30 because that would make me old enough to have some artistic experience and sophistication, young enough to stay out all night, to go up and catch the jam sessions at
Minton's
and Monroe's. And of course, in this fantasy, I'm totally hip, hipper than I ever was in real life (though not too hip, like
Terry Southern
's character).
In real life, here are my recollections of jazz in the 50s. The drinking age back then was 18, so these recollections are 1958-59.
My very first time in a jazz club...Smalls Paradise on 135th St. There was no cover, and one drink minimum. One drink for me meant a bottle of beer, which cost 75 cents, and which you could nurse all night.
The first band I heard there was led by
Donald Byrd
and
Pepper Adams
. Pepper Adams played a gig at Opus 40 not long before his death, and I made sure to tell him what an honor it was to present the first jazzman I'd ever heard live. "Yeah, I remember that gig," he said.
Al Cohn
and
Zoot Sims
at the Half Note, on Spring Street, with my friend Lenny Rosen.
Mose Allison
was the piano player in the band --
Back Country Suite
had been released by then, and maybe
Local Color
too, but he hadn't gone full bore into his career as a leader/vocalist yet. At any rate, Lenny and I were huge Mose fans, and it was exciting to hear him in another context (Mose discusses his years with Al and Zoot
here
).
Less than a year later, I was married, and I remember Lenny telling me I'd made the right decision: "Just remember two lonely guys down at the Half Note." Well, a failed marriage is a plethora of memories, some good and some bad, but I remember those nights at the Half Note with unalloyed pleasure.
Henry "Red" Allen
at the Metropole, in Times Square. Strangely, there's very little on the Web about the Metropole, though I did find
these memories
. No pictures. And it was an oddly picturesque spot. I didn't appreciate it enough at the time. I was young and bebopper, and I wish now I had listened more to these great traditional musicians. But the oddness of the place, in part, worked against a young would-be hipster appreciating it. It wasn't in the Village, or Harlem -- it was right there in Times Square, you could see the musicians from the street, through the window, you could just pop in, listen for a few minutes, and pop back out. They played in the daytime. The bandstand was long and narrow, behind the bar -- it looked more like a strip club, which it later became.
Count Basie at Birdland.
And the main memory of all.
About 15 years ago, I was in New York, walking near NYU, and I ran into a friend of mine, Bill Petkanas, younger than me, then an NYU graduate student. We decided to go for a beer. "I know a place over on Cooper Square," he said. "It's a thrash punk club, but the music doesn't start till late, and we can get a beer and talk now."
We went in. It was a punk club, all right, with black spray painted graffiti on the mirror behind the bar, and all over the bandstand. But I knew that bar, that bandstand. "I've been here before," I dold Bill. "But not to hear a thrash punk band. The last time I was here,
Ornette Coleman
and http://en.wikipedia.org/wiki/Don_Cherry_(jazz) were on that bandstand."
Yep, it was the Five Spot.
And that's the last reminiscence in my "I'm Not So Old" poem. I went there a lot in that winter of 1958-59, but once Ornette started his gig there, I went there all the time. I may not have been around for the birth of bebop, but I was there for the birth of Free Jazz, and that was as thrilling as it sounds. The white plastic sax, the tiny B-flat trumpet, and music like nothing anyone had ever heard.