E
veryone loves a piano trio. Mark Feldman, who ran Reservoir Records, had most of his sales in Japan, and he told me once that piano trios were what his audience wanted. If one of his artists wanted to do a vocal on one cut, and he couldn't talk him/her out of it, he knew he was saying goodbye to the profits on that album.
Even if a piano trio isn't very good, they can still make nice background music. Sometimes, even if they are very good, they can be relegated to the status of
background music, which is what happened to Ahmad Jamal until Miles Davis pointed out that people who didn't take him seriously were missing an important musician.
Even if they are very good, they can still make background music, albeit very good background music, for your hip cocktail party or whatever people have these days instead of cocktail parties, or your Christmas party, which I'll get to in a moment. But if they are very good--as good as Red Garland, Paul Chambers and Art Taylor, for example--you would do well to cancel the cocktail party and just sit and listen to them.
Garland, Chambers and Taylor visited Hackensack on two consecutive weeks in November of 1958, the second date falling on Thanksgiving Day. Perhaps they also shared a Thanksgiving dinner with the Van Gelders, but in any case, even if they weren't in a holiday mood, they were certainly in a seasonal mood. The session encompassed all four seasons and a couple of weather conditions, or perhaps ("Rain" and "Stormy Weather") a couple of variations on the same weather condition. This is, if one is in a generous holiday mood, a thematic album, and if one is feeling churlish, a gimmicky album.
I go with the former. I think it's kinda fun to gather a session around a theme, especially when you can gather tunes like these by composers like these. On the weather front, "Rain" is the most obscure, by composer Eugene Ford, who seems to be known for nothing other than this song, but "Stormy
Weather" is a certified classic from the pen of one of the greats, Harold Arlen. The seasons are equally well represented, with spring from Frank Loesser, summer from George Gershwin, autumn from hipster extraordinaire Henry (the Neem) Nemo, last heard from in a Prestige context in
Davis and Scott's
version of "I Let a Song Go Out of My Heart," and..."Winter Wonderland"? Well, maybe it is a little gimmicky.
Gimmicky maybe, but who says jazz musicians aren't allowed to have a little fun? This Christmas chestnut was composed by Felix Bernard, who was prolific and successful in his day, but is really only remembered for one song. And this should certainly make your mix tape for that Christmas party.
It's fun to listen to. Garland goes through the verse and bridge a couple of times, playing the melody, keeping the chirpy gaiety of the song with just enough dissonance and syncopation to keep it interesting, but just as you're starting to think "Well, even Red Garland couldn't figure out a way to improvise on this one," he takes off, and his improvisation is imaginative and rewarding, while still staying true to the essential chirpiness of the melody. Then when Paul Chambers steps in with his bowed bass statement of the melody, you know they made the right decision including this one.
Gimmick or no, thematic or no, you can always count on Red Garland for eclectic and unerring taste in his song selection.
We get that again in the other, earlier session. The seasonal album was released right away, the other one held off until 1960, when Prestige launched its Moodsville label. And if Moodsville was meant to be piano trio-type background music (it wasn't) they might have asked Garland to do a little "Tea for Two" or "Autumn Leaves." And he does do a couple of ballads -- the lovely Ziggy Elman/Johnny Mercer "And the Angels Sing," and "I'll Never Stop Loving You," not one of my favorites, but mostly because of the dumb lyric, which does not get in Garland's way. However, he also does two originals, including "Bassment Blues," and if you thought "Bass Blues" was low, wait'll you get down to the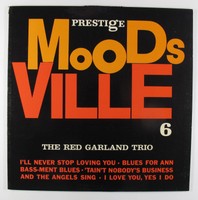 bassment. This one starts with a lengthy, show-stopping solo by Paul Chambers. He makes his stop in rhythm and bluesville with Bullmoose Jackson's "I Love You Yes I Do," and in down home traditional bluesville with "'Tain't Nobody's Business If I Do," a staple of Bessie Smith's repertoire.
The Moodsville Session was called simply
Red Garland Trio
. The seasonal smorgasbord is
All Kinds of Weather
, and it was produced by Esmond Edwards.
Oh, yes, and at this holiday season, if you google "Red Garland," you will be sent in a completely different direction. So red garlands to you all, and greetings of the season, even if a 45 degrees and sunny day in upstate New York is not exactly a winter wonderland..
Order Listening to Prestige Vol 2
Listening to Prestige Vol. 2, 1954-1956 is here! You can order your signed copy or copies through the link above.
Tad Richards will strike a nerve with all of us who were privileged to have lived thru the beginnings of bebop, and with those who have since fallen under the spell of this American phenomenon…a one-of-a-kind reference book, that will surely take its place in the history of this music.
An important reference book of all the Prestige recordings during the time period. Furthermore, Each song chosen is a brilliant representation of the artist which leaves the listener free to explore further. The stories behind the making of each track are incredibly informative and give a glimpse deeper into the artists at work.