This is the second of two sessions featuring Mal Waldron and a sextet, with basically the same instrumentation but different players. Idrees Sulieman and Sahib Shihab replace
Bill Hardman and Jackie McLean
, with Shihab doubling on baritone sax.
One of my real joys in the recent era of Prestige releases has been a rediscovery of Mal Waldron. I knew him as a pianist, but I hadn't realized the extent of his contributions as a composer. Virtually every Prestige album he's appeared on has featured at least one of his compositions, generally more, and they've all been striking.
Interestingly, of the three tunes on this session, only one is his. The other two are standards by outstanding composers: Jerome Kern ("The Way You Look Tonight") and Cole Porter ("From This Moment On"). So he wasn't afraid to match himself up against the best. Nor would he need to. All three of these cuts are stellar.
At this point, any Prestige session involving John Coltrane is as important in the history of John Coltrane as it is in the history of Prestige records -- and there will still be a few more. Coltrane left Prestige for Atlantic in 1960, and recorded the groundbreaking
Giant Steps.
That album, Miles Davis's
Kind of Blue
, and Ornette Coleman's first albums changed jazz.
And as
Giant Steps
was a break from jazz past, it was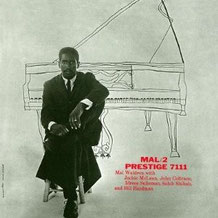 a break from Coltrane past. So these 1956-59 albums are important because they show the development of one of the most important talents in jazz, as he distinguished himself from the rest while still working within the context of the jazz of that era, whether you call it hard bop or anything else. Can we hear the seeds of the change to come? I'm not good enough to answer that. I know that when I first heard
Giant Steps
, it sounded like nothing else I'd ever heard.
Meanwhile, here's Coltrane with two other fine horn players, and I love what they do together, especially Coltrane and Sulieman. And with Mal Waldron. If it's a couple of steps short of
Giant Steps
, it's still important music, and it's an important part of the Mal Waldron story.
The three cuts from this session became part of
Mal-2
, issued under Waldron's name. They were never specifically rereleased under Coltrane's name, as were a lot of the Prestige sessions Trane took part in,
Order Listening to Prestige, Vol. 1 here.