If you were going to put together a new quintet in 1954, your reason for doing it would be (a) they were so naturally attuned to each other, or (b) you thought two trombones would be an interesting combination, and who else would you go to?
The answer pretty much has to be (b). Johnson and Winding were not automatically thought of as musically compatible. They were both modernists, but Johnson the more unequivocally modern of the two, the man who had brought the trombone to bebop and bebop to the trumpet.
But...who else would you go to? Neither of them was considered the dominant trombonist of the day. Although by 1954 the beboppers had won the day from the moldy figs, the trombone (like the clarinet) was still mostly considered a swing era instrument. The trombone greats were Kid Ory, Tommy Dorsey, Glenn Miller. And the year-in, year-out poll winner on trombone for the last 5 years had been Bill Harris. But Harris was better known for his work with big band leaders like Benny Goodman and Charlie Ventura, although he had also been with Woody Herman, who was closer to the modern sound. The other trombonist of note at that time was Bennie Green, who had one foot in
the big band camp and one in the moderns'.
And in fact, Ozzie Cadena, a young jazz fan with aspirations to be a producer, who had thought up the two-trombone gimmick, at first wanted to pair Johnson with Green. But Winding and Johnson were the true modernists. Both had played (on different tracks) on the Miles Davis Birth of the Cool sessions. Their approach to the trombone, and to modern jazz, was very different, but each admired the other's work, and in their hands, the two-trombone quintet became much more than a gimmick.
Cadena (who would later become a producer for Prestige) brought the duo to Savoy Records. He recorded them in August of 1954, in the Van Gelder studio, with Billy Bauer, Charles Mingus and Kenny Clarke. The recording was a success, and it led to one of the most celebrated dual-led groups of that time. And it seems that they couldn't wait to do it again. By December, they were back in Hackensack, recording for Prestige, and in between, they recorded a live session at Birdland, which was not to be released until many years later. Bob Weinstock produced the December session.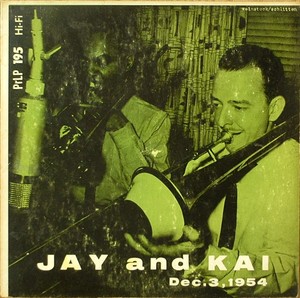 The tunes here are a mixture of originals and standards. Well, "Dinner for One Please James" was something of a minor standard--it was a 1934 tune that was something of a knockoff of Cole Porter's "Miss Otis Regrets," but it was also a current pop
tune, having been recorded in 1953 by Nat "King" Cole. It did have something of a career as a jazz standard, recorded by Dexter Gordon and Branford Marsalis (and, oddly, by Western Swingster Hank Thompson as a country song). "Hip Bones" and "Riviera" are Johnson originals, "Wind Bag" and "Don't Argue" are Winding's. "Bags' Groove," of course, is one of the great jazz standards.
The Jay and Kai version of "Bags' Groove" was also released on 78, as the flip side of "Don't Argue." And on an 45 RPM EP, along with "Don't Argue," "We'll Be Together Again," and "How Long Has This Been Going On?" The other four tunes had their own EP. The entire set was released on a 10-inch LP, and a year later, as part of a 12-inch, 7000-series LP called
Kai and Jay, Bennie Green With Strings.
This time Kai got first billing, and they'd continue to swap for the time they were together, which was about two years. They parted amicably, because they felt at the time that they'd taken the two-trombone idea as far as was productive, although they would reunite from time to time.