(Filling in holes - sessions I wasn't able to find and listen to before. This one goes back to 1952.)
I said in my
previous Bennie Green entry
that "Bennie Green could play anything, and he pretty much proves it on this set." Well, he didn't quite show everything he could do on that October 1951 session of "big band swing ... gutbucket blues ... supercharged bebop with some R&B honking thrown in for good measure... a standard with a bebop treatment... a honk-a-thon with two classic honkers, and ... rhythm and blues if the rhythm section were a little more predictable, but it's not. What else could you possibly want?"
What else? What about a string section?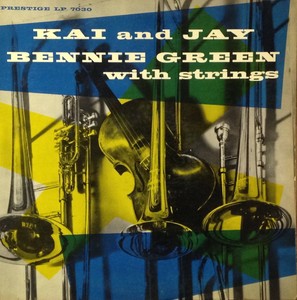 There was a mini-vogue for jazz and strings, kicked off by Charlie Parker's 1950 recordings. Green was one of the first. Chet Baker would follow in 1953 (and later, with 50 Italian strings, in 1959). Clifford Brown in 1955, Billie Holiday in 1958. But there wasn't exactly a pattern set for it, and Green wasn't much for following patterns anyway.
I was able to find and listen to two tracks from this session. Gershwin's "Embraceable You" begins with a lush string passage that could have come from a Jackie Gleason album, but doesn't stay that way. As soon as Green's trombone enters, the strings move into a dialog with him that takes some unexpected and pleasurable turns. Gershwin's songs lend themselves to almost endless possibilities of interpretation. Green's solo work is soulful, sweet, and sometimes even a little dirty. Hey. there are all kinds of embraces.
Tommy Potter never soloed much, and he doesn't exactly solo here, but on "Serenade to Love" he plays a very cool bass line against the string section.
Bill Harris won most of the trombone polls in that era, and then J. J. Johnson. J. J. and Kai were the big story on trombone, once they got together and formed an unforgettable quintet. Scott Yanow, reviewing a reissue for AllMusic.com, notes that "trombonist Bennie Green is heard on four ballads from 1952 while backed by a rhythm section and six strings. However, the more significant selections are eight songs that for the first time matched together trombonists J.J. Johnson and Kai Winding..." and he's right. They're historically more significant, and musically very important. But so was Bennie Green, although this session with strings is nearly impossible to find.
The four selections from this session were issued on a 45 RPM EP and two 78s. Prestige liked to package Bennie, JJ and Kai together, with a little confusion as a result. There are two different albums called
Trombone by Three
. Prestige PRLP 7023, with a magnificent cover by Don Martin before his
Mad
magazine days, features selections by the Bennie Green Septet along with selections from separate Johnson and Winding quintets. PRLP 7030 has the tunes from this session, and is titled
Kai and Jay - Bennie Green with Strings.
But then there's a 16 2/3 album, also called
Trombone by Three, w
ith a cover by Andy Warhol before his Campbell's Soup can days, that includes selections from both Bennie Green sessions. If you have a copy of the 16 2/3 version, you probably won't be able to play it, but you'll have some neat cover art.