There's a session in between these two very different Miles Davis sessions. Bob Weinstock never had much luck with rhythm and blues, and maybe it's just as well. He might have yielded to the temptation to become another rhythm and blues label, and while there were many labels putting out great R&B, there were very few who can boast the jazz catalog Prestige put together.
Billy Valentine cut four sides on February 6—Valentine on piano and vocals, Mickey Baker on guitar. Two were issued on PAR Presentation, two never issued. Of the two that were issued, I can't find a trace. Too bad. I'm a huge Mickey Baker fan, although I wasn't familiar with Billy Valentine. A little research turns up one cut with Johnny Moore's Three Blazers. He must have replaced Charles Brown, because Valentine's "Walking Blues" is a direct remake of Brown's hit "Drifting Blues." Valentine is no Charles Brown, but he's pretty good.
So on to Miles, and an unusual lineup, and an unusual--but very good--record. John Lewis and Kenny Clarke are on board. They'd just made one record with a new group, but hey, who knows if a new group will stay together? Best get work while you can.
Sonny Truitt is another one of those unsung pros who can be counted on to do the job. The only bio I can find for him says he's mostly known for his work with Miles.
Al Cohn and Zoot Sims, separately and together, but most famously together, had a major impact on the jazz of the 40s and 50s. Davis brought them into this gig together, but it's Cohn who made the major contribution. These tunes were released by Prestige in various configurations, but one of them was a 10-inch LP called Miles Davis Plays the Compositions of Al Cohn. All four were written by Cohn, and all except "Tasty Pudding" specifically for this group.
Why is this session, in all its LP configurations, not better known? I think the answer may lie to some degree in the liner notes by Ira Gitler to the
Compositions of Al Cohn release (Gitler by this time was regularly producing for Prestige, as well as writing the liner notes):
Since the "records heard 'round the world," GODCHILD, JERU, MOVE et al, Miles Davis has made many other fine recordings to enhance his position as top modern trumpeter, but in the main they have been three horn groups (including himself) with an emphasis on solo work. After the original melody, usually stated in tight unison, each hornman played again only when his solo turn came. The soloists had to be good to sustain interest, and they were, but it was felt Miles needed a change of pace for his next recording date: compositions and arrangements which would suit him and result in a happy composition of arranged music and solo work.
With all due respect to Gitler, whose liner notes for Prestige. as well as his work for Down Beat, Metronome and other jazz publications, provide an invaluable and insightful narrative of some of jazz's greatest years, this is mostly bullshit.
Let's leave aside "
each hornman played again only when his solo turn came." That's an oversimplfication--it leaves out trading fours, interpolated notes, and even concurrent solos, but it's a short piece, and the oversimplication is still more or less accurate.
But why was everyone who wrote about it, in that era, so eager to put down, and put to rest, the classic bebop formulation? Gitler is better than most. The New Yorker, in every "Goings On About Town" mention of jazz, gives the back of the hand do bebop's death throes. John Lewis and Miles Davis are both described as being frustrated by the confines of the theme-solos-theme format. But made for so much great jazz, and not just in the Forties.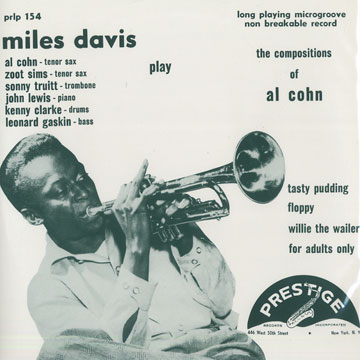 OK, it's not mostly bullshit. He's not really wrong about anything. And I'm nitpicking way too much about a far greater jazz writer than myself. But what about the "records heard 'round the world"? That's a problem. The Birth of the Cool sessions are among the most important in jazz, and Gitler was perceptive enough to realize it, but at the time he was writing this, they were only the records heard 'round the world to a discerning few. Probably most musicians, probably not that much of the public. The Royal Roost sessions had not drawn fans, the 78s hadn't sold well. So maybe as good as this session is, and as good as the Lee Konitz session was,. there wasn't an audience for it yet, and even over time it hasn't gotten the traction to pull it even with the other Davis LPs on Prestige.
The Konitz session was probably more experimental than the Birth of the Cool sessions, this probably less. But it's beautifully played, and brilliantly written. I'm not sure one would immediately think of Miles Davis and Al Cohn as the most likely of musical partners, but whoever thought this one up was inspired. Miles himself? Bob Weinstock? Ira Gitler? Cohn?: Some combination of all four?
Maybe Gil Evans had a hand in it? He's not credited with any part of the Davis oeuvre from Birth of the Cool to Miles Ahead, but Evans didn't take credit for a lot of things he was involved in, and he and Miles were always close.
In any event, this is a terrific album, and one that deserves a higher spot in the Davis canon than it probably has.
"For Adults Only" has a very familiar melody. Is it also called something else? Or is it just really catchy?
"Tasty Pudding" was released as 78;
Miles Davis Plays the Compositions of Al Cohn was the 10-inch. A later reissue was on a 12-inch 7000-series as Early Miles 1951 & 1953, and on a 1955 reissue called Miles Davis and Horns, which is interesting not only for its music but for its cover art, by Don Martin, of Mad fame. Mad and Miles seem an odd combination, but Martin did several covers for Prestige.
I don't comment on the post-1972 reissues for the most part, but there is a reissue called Dig - Miles Davis and Sonny Rollins, which includes the sides from the Al Cohn session, which is a good thing, but has what may be the world's worst cover art, replacing the dark, atmospheric, supercool young Miles with a bad photo of heavy equipment at a construction site.