I've written about Wardell Gray
here
,
here
, and
here
, and I don't know that there's a lot I can add, so maybe I'll just dedicate this blog entry/appreciation to my recent Facebook friend, Anita Gray, Wardell's daughter. Listening to any Wardell Gray recording session is a special experience, whether he's playing swing or bop or blues or R&B, in a big band like Basie's, as part of Benny Goodman's experimental bebop group, backing up singers as diverse as Dinah Washington, Billy Eckstine and Little Willie Littlefield, engaging in legendary tenor sax battles with Dexter Gordon, or leading his own group, as in this session for Prestige.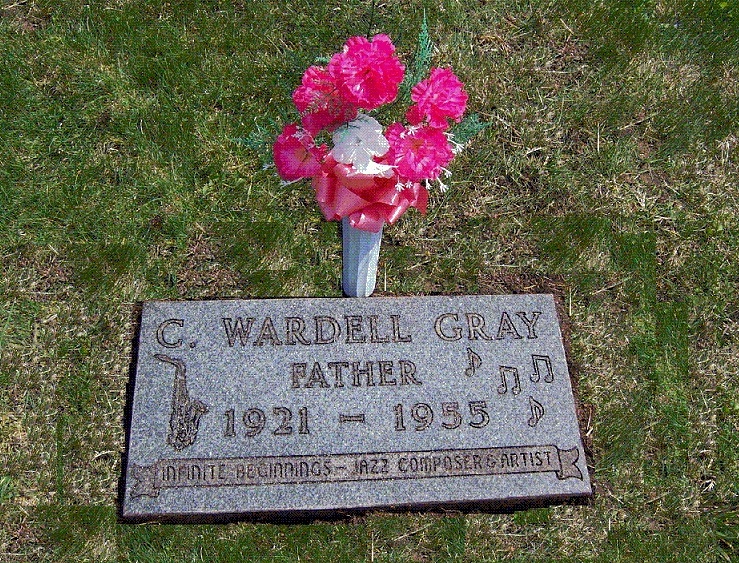 By 1952, Gray was beginning the decline that marked the last years of his life. He had settled on the West Coast, but West Coast gigs were few and far between. And it was probably about this time that this brilliant, educated man, role model for many younger musicians, great musician in his own right, began to slip into the heroin addiction that was so much the scourge of that era. He would only record sporadically after this, and he died in 1955, in Las Vegas, under circumstances that will never be fully known -- never, because Las Vegas was as racist as any town in Mississippi in those days, and the police were not going to be bothered investigating the death of a black man. I'm including here a photo of his headstone, designed by Anita Gray.
This is a wonderful session, his last for Prestige as a leader, although he did make one more for the label, in a group led by Teddy Charles. He is still at the top of his form here, swinging throughout, making every note the right one.
Also on this session is 23-year-old Art Farmer, making his recording debut. Farmer has said of Gray
Wardell was one of the nicest people I ever have known and he was like a big brother to me. He never hesitated to tell me what he felt I needed to know. I can't think of anything about this man as a man or as a musician to find fault with. It's just too bad that he didn't live long enough for the rest of the world to hear him.
As a young jazz snob, when I went out to a club, I would snootily resent audience applause at the end of a solo, wanting to listen to how one soloist picked up on what the previous soloist had done. I've since learned that there can never be such a thing as too much applause, and a brilliant solo deserves it, but I still like listening to those moments, and I love, in this session, the passion and immediacy with which Farmer picks up Gray's ideas.

Farmer was contributing ideas of his own, too. "Farmers Market" is his composition (and unlike Miles Davis, Gray allows him full credit for it).
Also represented as composer is pianist Hampton Hawes. with "Jackie." Hawes was also 23, but
already a seasoned veteran, having played with major jazz artists (including Charlie Parker) since he was 19. His playing on this session is a revelation. He's really unlike anyone else -- so percussive, so cutting, so inventive, and yet so melodic.
All of these were released on 78 -- I/m not sure about 45 -- and on LP.