I hope the two John Williamses who were playing piano in New York in the mid-50s at least had different answering services. Otherwise who knows what confusion might have ensued? Suppose Phil Woods had called for the guy who'd played dates with Stan Getz, Al Cohn and Zoot Sims, and would later play with Cannonball Adderley, and by mistake he'd been connected to the other John Williams, the Juilliard student who was also playing a lot of club dates around town, and doing a lot of studio work, much of it with a rising young composer. What if Woods had gotten the wrong John Williams for this gig, and the wrong John Williams had done so well on the session that he never would have made it out to LA with his his composer friend Henry Mancini, and never would have become a composer himself? No
Jaws
, no
Star Wars
?
But Woods did get the John Williams he was looking for, along with Teddy Kotick and Nick Stabulas, for a heck of an album.
"Be My Love" is best known as the signature song for pop-operatic tenor Mario Lanza, and it seems an unlikely vehicle for a jazz quartet. But actually, it's proven to be a surprisingly versatile warhorse. Composed by Hungarian emigre Nicholas Brodszky, it's gotten the full-out dramatic treatment from Placido Domingo and Jose Carreras,and by Lanza fan Jackie Wilson, singing in the operatic style for which he was trained--and by Sammy Davis, Jr., doing an uncanny impression of Lanza (and of Louis Armstrong on the same tune--file under "Only Sammy").
But it's been taken up by a surprising number of jazzers--Keith Jarrett, Earl Klugh, Kenny Drew and Howard McGhee, Hubert Laws and Nancy Wilson. Stranger still a rock version by NRBQ, a country rock version by Rick Nelson, and a Ray Charles version by Ray Charles. Mario Lanza might be spinning in his grave, except that he grew to hate the song, and his spirit is probably just as glad to see it separated from him.
Phil Woods does a terrific version of it, taking it at a tempo that would have surprised Lanza, with some fine solo work by the right John Williams, and beautifully balanced drum accents by Nick Stabulas, who provides them at just the right spots throughout the album.

We know that the classic composers who created the Great American Songbook drew much of their inspiration from jazz, and the modern jazz musicians mined the Great American Songbook for melodies. But it's interesting to me how often they went outside the Great American Fakebook of those jazz-influenced composers. Back to an earlier time, taking melodies from the operetta composers like Victor Herbert and Rudolf Friml. To European folk melodies like "Dear Old Stockholm" (and we know how much of an influence Debussy was on Charlie Parker and others). And to composers like Brodszky, who were also working out of a strictly European tradition.

The white male pop singers of this era fell broadly into two categories: the jazz-influenced singers like Sinatra, who came from the influence of Bing Crosby, who was the first white singer to understand Louis Armstrong. And the guys who were pretty much untouched by Armstrong, like Vic Damone and Jerry Vale, who came out of the tradition of bel canto, which was the pop side of operatic voices like Lanza and Ezio Pinza. And of course, the original great pop idol in American music was a pure opera singer: Enrico Caruso.

And you might not think that this would be a direction toward which jazz musicians would lean, but they were amazing. They had ears that were active and questing. Louis Armstrong loved Guy Lombardo. David "Fathead" Newman loved Michael Bolton. You don't get it? You're probably wrong, and they're probably right.


"Slow Boat to China" is a Frank Loesser tune, and Loesser is certainly a master in the tradition that flows from Gershwin. It's an irresistibly catchy melody, which also appealed to Charlie Parker and Miles Davis, to the MJQ and Sonny Rollins, to Stan Getz, to Diz and Bird. To the masters, and Phil Woods is one of those masters. And catchy as the melody is, it could resolve itself in sort of a cliched way, unless you're one of those masters, and are never going to settle for the obvious.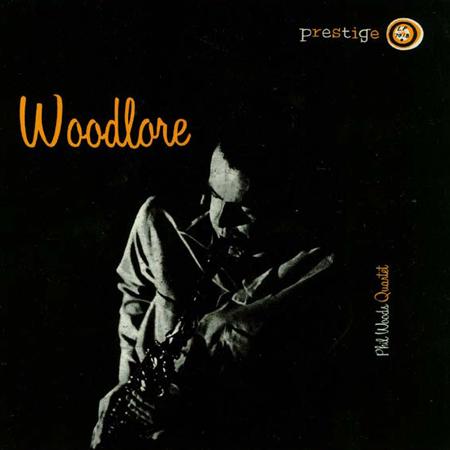 "Woodlore" and "Strollin' with Pam" are two strong Woods originals. Teddy Kotick is a veteran of the early days of bebop recording, where bassists didn't solo. Well, they mostly couldn't, being set too far back from a single mike, but they didn't. Kotick takes a solo on "Strollin' with Pam," and shows that he can.
We lost Phil just a couple of months ago, and what a loss for jazz.

This was only released as a 12" LP (and years later on Original Jazz Classics). And the whole session was on that LP. This is a new trend -- one session, one album. So the four-song session is on its way out.