Gigi Gryce had a short but influential career. Besides his groups co-led with Art Farmer, he worked with Thelonious Monk, Oscar Pettiford and Donald Byrd. He was conservatory-trained, and as good an alto player as he was. he was perhaps even more highly regarded as a composer than as an instrumentalist, in the classical as well as the jazz world.
He had
started to make his reputation
on the 1953 tour with the Lionel Hampton band, which contained a number of rising young moderns who made several recordings on their own in Sweden, Switzerland and France (Hamp was not pleased, but they weren't entirely pleased with the wages he was paying, so that balanced out). Gryce and Quincy Jones were the two hot new composer/arrangers to come out of that tour, and in fact Gryce paid tribute to the competition with one of his originals, "Keepin' Up With Jonesy."
Art Farmer was one of the other young guns on the Hampton tour, and he and Gryce stayed close after the tour ended.
This session showcases Gryce as a composer. "A Night at Tony's," "Deltitnu" and "Blue Concept" are all Gryce originals. "Stupendous-Lee" is variously credited, depending on which site you look at, to either Gryce or Farmer. Allmusic has it variously credited to each of them on different pages of its site. But I'd say the evidence points to Gryce. Most jazz titles ending in "-Lee" are either written by or tributes to Lee Konitz, but this one was written for Gryce's wife, Eleanor "Lee" Sears.
These are all terrific tunes, and they've had some traction. Dizzy Gillespie recorded "A Night at Tony's"; so did Art Blakey and the Jazz Messengers, and Art Farmer and Horace Silver have recorded it with their own groups. "Blue Concept" was also recorded by Horace Silver, and the song itself can boast of an all-star section of trumpeters, each of whom has recorded it with his own group: Art Farmer, Donald Byrd, Nat Adderley, Clifford Brown. "Deltitnu" has become a favorite of Postmodern jazz-rock bands, as well as a go-to tune for a number of the musicians who played on its premier recording, with
Gigi Gryce et son Orchestre
.
Speaking of jazz compositions, there is one thing that drives me a little nuts, and generally ends up making me feel really ignorant, and that is the genealogy of songs. Why is "based on the chord changes" so important to jazz writers? Here's from the Jazz Lead Sheets website, and I don't mean to single them out, because everyone does it:
Like many other jazz composers, Gigi often liked to borrow a "standard" chord progression, then create his own melody. That often led him to adjust the original chord progression, in places, to fit his new melody. The bridge of A Night At Tony's is a good example of this, since Gigi's bridge melody alters the orig

inal chord progression of Charlie Parker's Yardbird Suite. However, on the recording the musicians play solos on the original Yardbird Suite 'changes.'"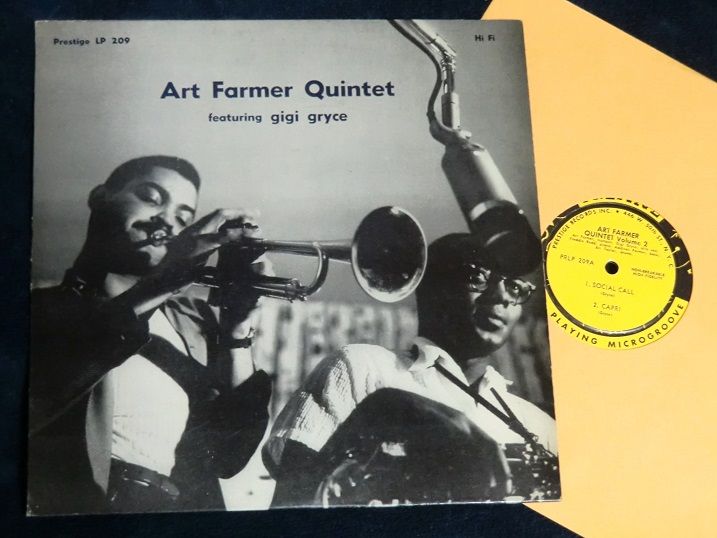 OK, so it's a different melody AND different chord changes, so why is it still "Yardbird Suite?" Why is it even based on "Yardbird Suite"? I'm just a simple lyricist, but if I write a song based on the chord changes to Heartbreak Hotel, I'm also writing a song based on the chord changes to "You Are My Sunshine" or "Sink the Bismarck" or "Hoochie Coochie Man" or about a million other I-IV-V songs. And if the soloists play solos based on different chord changes than the changes Gryce wrote the melody to -- and obviously they're playing a different melody, or it wouldn't be an improvisation...in other words, why does everyone who writes about jazz make such a big deal out of this "based on the chord changes" thing? And "Yardbird Suite" may or may not be based on the chord changes to Earl Hines's "Rosetta," which has the same chords, only different.
If I write a sonnet, am I basing it on Petrarch's chord changes?
Anyway, if I were going to write a song called "A Night at Tony's," and base it on the chord changes to a jazz classic, I'd base it on "A Night in Tunisia."
This one only came out in LP format, first on a 10-inch under Farmer's name, then as the 12-inch LP
When Farmer Met Gryce.