Strange, but this is the session that was. You'd have thought, perhaps, that after having a hit record off of the first King Pleasure session, Weinstock would have planned a whole recording session around him, and gotten him some serious A-list musicians, led by someone better than Teacho Wiltshire. But instead, he seems to have been a sort of afterthought on a session led by someone who wasn't as good as Teacho Wiltshire--although not bad.
The Charlie Ferguson Quintet recorded eight songs that day, six of them without King Pleasure. Of those six, only two ("When Day is Done" and "Stop Talkin', Start Walkin'" were ever released, although their version of "Christmas Song,"
with the Mello-Moods
singing pretty good backup vocals to a sort of Earl Bostic-type sax solo by Ferguson, has showed up on YouTube. Prestige had Ferguson back a few months later to record six more songs, none of which were released.
So, let's start with the band. Ferguson had some solid rhythm and blues credentials, having played with Arnett Cobb and Jimmy Liggins. Most of his work in the 50s was in the house band for Apollo Records. But he couldn't make that breakthrough, and today he's probably best known, if at all, for the two King Pleasure songs. He's also, for what it's worth, the third Ferguson to record for Prestige in 1952. I don't know if he's related to either Rudy or H-Bomb. He has an extended solo at the end of "Jumpin' With Symphony Sid," which cooks.
Ed Lewis's credentials go back to Bennie Moten in Kansas City, who played for many years with Basie, although he never soloed, and was considered by Harry "Sweets" Edison to be, along with Snooky Young, one of the two greatest first trumpets he ever played with. Ed "Schubert" Swanston actually worked extensively with the Mello-Moods, which may have been what brought him to the gig. He also had gotten around the jazz world, playing with Louis Armstrong from 1943-45, and also with such as Gene Krupa, Andy Kirk, Oran "Hot Lips" Page, Lucky Millinder, Art Blakey, Erskine Hawkins and Jimmy Rushing.
Peck Morrison would have a few turns in the Prestige studios, with Zoot Sims, J.J. and Kai, and Willis "Gator Tail" Jackson. He also recorded with Horace Silver, Gigi Gryce, and Art Farmer, and played with pretty much everyone: Gerry Mulligan, Carmen McRae, Tiny Bradshaw, Eddie Jefferson, Duke Ellington, Lou Donaldson, Mal Waldron, Randy Weston, Red Garland...I know I'm going on about these guys, when the real news about this session is King Pleasure and Betty Carter, but that's part of my pleasure in doing this blog. Jazz rode on the backs of guys like Ed Lewis and Peck Morrison...and Herbie Lovell, for many years house drummer at the Savoy Ballroom, who started with Hot Lips Page, then worked with Hal Singer, Johnny Moore's Three Blazes, Earl Hines, Lucky Thompson, Jimmy Rushing, Arnett Cobb and pianist Teddy Wilson. Which is a lot of versatility, but there's more. He also played drums on The Freewheelin' Bob Dylan, and on albums bv John Denver, B. B. King, and...the Monkees?
King Pleasure broke through with Eddie Jefferson's magnificent treatment of "Moody's Mood," and came back this time with his own vocalese versions -- of Gene Ammons's "Red Top" (a really good start) and Lester Young's "Jumpin' With Symphony Sid" (has become a classic).
Carmen MacRae once said, "There's really only one jazz singer – only one: Betty Carter." Carter's improvisational gifts are legendary, but here on her one cut ("Red Top") she's mostly singing harmony with Pleasure, although she does get to let loose on one chorus. And again, you have to wonder. "We can get Betty Carter for this date." "OK, we'll use her for one song on the Charlie Ferguson session."
And what can you say about King Pleasure? He should have recorded more. But we have what we have, and these two are right up there with his best. And maybe it wasn't so much an afterthought to the Ferguson session -- maybe these were the only two songs Pleasure had at that time. Annie Ross may have tossed off "Twisted" in one night, but this stuff really isn't easy to write.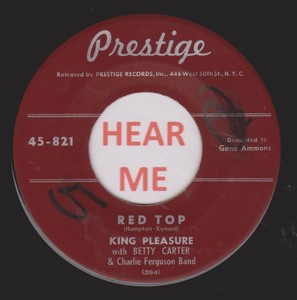 This may have been listed as a Charlie Ferguson session, but the records came out under King Pleasure's name (with Betty Carter given credit). "Red Top" was on three different Prestige 45 RPM releases, b/w "Don't Get Scared" (from a later session), "I'm in the Mood For Love" (from an earlier session) and "Jumpin' With Symphony Sid" (from this session). "Symphony Sid" also had a second 45 RPM release, b/w "Parker's Mood," Pleasure's masterpiece, about which more later, when we get to it.