Not many bebop-era tunes have the word "blues" in the title, and even fewer have the word "boogie." The beboppers came from a deep tradition steeped in the blues, but standards, and original compositions often based on standards, were more their steady fare.The standards offered more complex chord structures, more possible improvisatory variations. So one blues and one boogie (the only two tunes from this session available on Spotify or YouTube) is an indication of the direction that Gene Ammons is moving in -- to that fascinating fuzzy area between bebop and rhythm and blues.
"Ammons Boogie" was actually written for Gene Ammons by his trumpet-playing right hand in the Septet recordings, Bill Massey, but the words "Ammons" and "Boogie" go together like Ellington and Strayhorn -- Gene's father, Albert Ammons, was one of the legendary boogie-woogie pianist Albert Ammons.
This version of the septet has a couple of new names. Once again, a new trombonist, Eli Dabney, who doesn't seem to have done any other recording with major groups, but who fills Ammons's septet sound nicely.
Rudy Williams takes Sonny Stitt's place on baritone saxophone. Williams played with many of the greats. Here's a partial list: Hot Lips Page, Luis Russell, Tadd Dameron, Illinois Jacquet, Howard McGhee, Don Byas, Babs Gonzales, Eddie "Lockjaw" Davis, Eddie Vinson, Bennie Green, and Johnny Hodges. Almost as interesting -- his lineage. His father was swing-era bandleader Fess Williams, and his cousin was Charles Mingus, who wrote and recorded "Eulogy for Rudy Williams" when the sax player died in a drowning accident in 1954.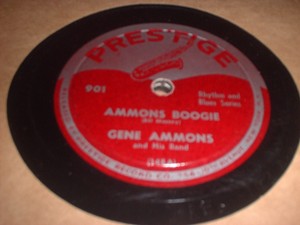 Clarence "Sleepy" Anderson is on piano, and I can't find much about him, either, except that jazz fans can be a snotty bunch. On a jazz organ discussion forum, someone asks if anyone knows anything about Anderson, and someone else responds, "You can find out about him on Google" (which you can't). If Guy #2 knows something about Anderson, why not help Guy #1 out?
Nice tribute to bassist
Earl May
here, including the information that he was a left-handed bassist playing a right-handed bass.
One of the tracks I can't find has a vocalist, Sally Early, about whom I can find absolutely nothing. She doesn't even get a mention on allmusic.com. Which makes me curious, but I'm afraid that way lies frustration. In any event, it seems that Weinstock may have thought adding a vocalist to Ammons might help with the jukeboxes, but he didn't seem to try very hard to find the top names -- at least not in 1951.
All four of these were issued on 78 by Prestige. The vocal cut appears to have been one of the B sides, so perhaps Weinstock's commitment to attracting the rhythm and blues nickels with a vocal was less than 100 percent. They were also issued on a 10-inch, but then not again until the 24000-series reissue package.