One of my policies in writing this blog is don't look ahead too much, take history and music trends as they come. So I really wasn't expecting, when I reported folklorist Art Rosenbaum's teenage experience in discovering Scrapper Blackwell, that Blackwell would be the next artist up in the Prestige story.
But here he is, and here's a little more of Rosenbaum's recollection, this from the liner notes of the Bluesville album:
In the summer of 1958 a Negro woman I know in Indianapolis told me of a man who could "sing blues and Christian songs" and "could play the guitar so it makes the hair stand up on the back of your neck." I went to the address she gave me, a shabby house in the shadow of the big Methodist Hospital on Senate Avenue, and met a slender, soft-spoken man who said that he would play for me if I got him a guitar, as he did not have one. He told me that he had once been a blues recording artist but had quit shortly after his partner's death in 1935. This man was "Scrapper" Blackwell, one of the greatest blues singers and guitarists. and he had been living in obscurity in his home town for more than 20 years.
This is roughly equivalent to buying an Edward Hopper painting at a yard sale because you like the frame. And like the mythical painting buyer, Rosenbaum did not realize what he had, at least not right away. He did bring Blackwell a guitar, but the old bluesman needed one more thing..."Bird food."
Bird food?
"You got to get some bird food for the bird, before the bird sings." Rosenbaum still didn't understand, so Blackwell spelled it out..."Beer." Unfortunately, Rosenbaum was too young to buy beer. Fortunately, the patient Blackwell explained, if the kid would buy, the bird would fly. All he had to provide was the money.
Another producer, jazz photographer Duncan Scheidt, also recorded Blackwell in Indianapolis, and his session was released on the British label 77 in 1959.
Blackwell recorded for Rosenbaum and Goldstein in July or 1961. He had mostly stopped playing, and completely stopped playing professionally, when Leroy Carr died in 1935, so his repertoire was essentially from that era--songs he and Carr had played together, or familiar songs like "Nobody Knows You When You're Down and Out."
Blues lyrics in those early days were swapped and hybridized. There was not a powerful sense of ownership of lyrics, and so verses would travel from one blues to another, from one singer to another, and yet so many of these early blues performers produced intensely personal and original work. Blackwell, on an early recording, "Down South Blues," sings about goin' where the Monon crosses the L&N-- the Monongohela and Louisville and Nashville railroads. W. C. Handy reported that his first exposure to the blues came when he was waiting for a train at a small Mississippi depot, and heard someone playing a guitar and singing a song with one line: "Goin' where the Southern cross the Dog." The Southern was the Southern Pacific railroad, the Dog was the "Yellow Dog" -- the Yazoo railroad. Railroads were important to the post-slavery blues culture of the late 19th and early 20th centuries--they were an escape from sharecropping. Crossroads had symbolic importance in African culture, which carried over to blues culture. And for this record, Blackwell put together his old verse with Handy's: "Goin' Where the Monon Crosses the Yellow Dog."
As to whether the Monon did cross the Yellow Dog, I don't know. But this was 1961, not 1921, and Blackwell's new audience was young white college kids, who didn't care. The audience of his younger days would have known, and would have called him out on it.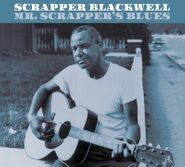 Blues performers may not have felt especially proprietary about their lyrics, but they did about their guitar styles, and Blackwell was one of the very best stylists of the blues guitar, which is why he was chosen as a partner by Leroy Carr, one of the great blues innovators. He may not have owned a guitar by the time the 1960s rolled around, but he had lost none of his virtuoso skills, as he shows everywhere on this album, but especially on the instrumental numbers, "'A' Blues" and "'E' Blues."
He leans heavily on material developed by him and Carr, but one of them in particular is interesting in our context. "Shady Lane" is an Indianapolis blues, written by the two of them during a walk in their hometown neighborhood. They had a lot of help with the lyrics from another neighbor: Flossie Franklin, mother of Guitar Pete Franklin.
Blackwell would make one more record for Bluesville, but his life was tragically cut short. In 1962 he was killed by a mugger in Indianapolis, another unsolved murder of a black man.