It may have seemed like a leap of imagination to put organ and vibes together in a quartet, or it may have seemed like the most obvious of ideas--let's take two of our hottest young stars and put them together and see what happens. Either way, Shirley Scott and Lem Winchester made an inspired pairing.
We've been following Scott through a series of albums, as she was both prolific and popular. We've heard her with a trio, with Eddie "Lockjaw" Davis, and accompanying a singer, and we've heard how she's always changing, always developing, always trying something new which is at the same time perfectly apropos to the setting she's in.
That's true again here, matched in quartet setting with a vibraphonist. She's mellower than she was when playing with a tenor saxophone, more restrained than the wild experimentation she gets into on her own, more assertive than when she's backing up a vocalist. And in every setting, she has something to say. I did not enter into this project having an opinion one way or another about Shirley Scott. I'd never really listened to her, and I could probably easily have gotten her confused with Hazel Scott, jazz pianist, actress, and wife for 15 years to Adam Clayton Powell. No more. Now I am a confirmed Shirley Scott fan, and I look forward to her every recording as I follow the Prestige story.
Here they take on some interesting material, starting with Andre Previn's "Like Young." Previn had had a hit with his own version of the song the year before, in a recording credited to "The Piano Magic of Andre Previn Combined with the Lush Strings of David Rose," which I guess signaled that the recording was being aimed at the Jackie Gleason market, and maybe explains why the song has never quite achieved jazz standard status. But Previn was a first rate jazz pianist before he went on to other things, including fame as a symphony orchestra conductor and notoriety as an adulterer back in the days when you could still be notorious for that. His notoriety was helped along by dumped wife Dory (dumped for Mia Farrow) who wrote a bittersweet song cycle about the experience,
Beware of Young Girls.
Farrow, of course, would have her own young girl to beware of later in life, when her adopted daughter Soon-Yi Previn took up with then-husband Woody Allen.
But I digress. Scott and Winchester were the first jazz musicians to take on "Like Young," and there have been a few more since, but it's never really caught on, although it is the most frequently recorded of any of Previn's compositions in the jazz-pop field. Henry Mancini, Neal Hefti and Martin Denny would all do orchestral versions of it, but only Illinois Jacquet and Dave Pell seem to have given it further jazz treatments.
Scott plays the head, and lays down a solid base for Winchester to improvise over. Scott herself will come back with a delicious upper register improv, leaving one to wonder why more jazz musicians haven't gone to this composer for inspiration.
"Sonnymoon for Two" is of course a Sonny Rollins tune, in this case a first date rather than a honeymoon, and like a good squire, Winchester lets Scott do much of the talking. This is definitely not speed dating. The two take time to get to know each other, and they each clearly like what they hear.
As originally recorded by Rollins at his 1957 live recording from the Village Vanguard, it was really a Sonnymoon for one, just the tenor great and a rhythm section. It was first covered by Jimmy Smith, and has since become a widely recorded jazz standard, with a wide variety of recordings including a smokin' one by rock guitar hero Danny Gatton and pedal steel guitar virtuoso Buddy Emmons.
The other standards are Bronislaw Kaper's "On Green Dolphin Street," Mack Gordon and Harry Warren's "The More I See You," and Lerner and Loewe's "Get Me to the Church on Time," the last of these a tune that's boisterous fun in its original context, and sly fun here, as they stay right around the melody, with deft variations. "Now's the Time" is one of Charlie Parker's best-known compositions, both in its own right and as the melody for the rhythm and blues hit, "The Hucklebuck" (no composer credit to Bird). Winchester had previously recorded "Now's the Time" on the album
New Faces at Newport
; this version with Scott stays much closer to Bird's original arrangement (and to "The Hucklebuck").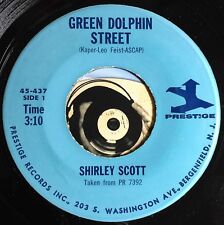 Finally, there's Scott's own composition, "Blues for Tyrone," which is largely a showcase for her bravura organ style, although Winchester handles his solo part near the end adroitly, "Blues for Tyrone" made the B side of the 45 to be released from this session. "On Green Dolphin Street," probably the most familiar tune to jazz aficionados, made the A side. We can see from the image of the 45 that the time is 3:10, cut down from the original 4:11 of the album cut. Which is interesting, I guess they were used to editing down album cuts for 45 RPM release, but 4:11 is really not too long to fit on a 45.
The album, not released until 1966, after Winchester's death, was called
Soul Sister
, shifting attention to the surviving star, and hopping onto what was by then a steamroller of a soul bandwagon. "Now's the Time" was left off this release, and became the title track of an album released the following year, and made up of leftovers from several sessions.
Esmond Edwards produced.
and also: