The Prestige All Stars are back for their first 1958 incarnation. "Prestige All Stars" is a name that never actually appeared on the original record labels or covers, although it does in catalogs. It was the session log name given to sessions that had no nominal leader, and the original album covers have an album title, and the names of all the participants in letters all the same size (in this case not including bassist George Joyner and drummer Art Taylor). This can change on a reissue if there's a breakout star like John Coltrane on the session.
I won't run counter to Prestige's egalitarianism by anointing a first among equals (and I wouldn't want to), but Herbie Mann is of notable interest because (a) the flute is becoming a popular part of jazz small group instrumentation, and (b) he was around before it was.
And that wasn't so long ago. Jazz is unique in cultural histories for its compression, which is why during this one decade you can find virtually every past style of jazz, and many of the players who will create jazz's future. So Herbie Mann's first album, in which he more or less introduced the flute into modern jazz, came in 1955, for Bethlehem. His breakout album was probably
Flute Flight
, for Prestige in 1957, with Belgian flutist Bobby Jaspar, who was to die young.
Jerome Richardson came on the scene around the same as Mann. Yusef Lateef was making music, but did not leave Detroit for New York until 1957. Eric Dolphy joined the Chico Hamilton group in 1958.
So anyway, by just a couple of years, Mann was a pioneer, and while a couple of years doesn't necessarily make a difference, in this case it seems to. Yusef Lateef in many ways represents the new sound of the flute in jazz, and his influences are eclectic, very much including the Middle Eastern sound he learned from a fellow worker on the Chrysler assembly line in Detroit. Mann felt that influence too (listen to "Tel Aviv" on the Bobby Jaspar session), but he's much more mainstream, and especially much more bluesy. He's not afraid to use the lower register of the flute, and he certainly foreshadows the soul jazz sound of
Memphis Undergroind
that would make him a star in the 1970s.
Once again, this session proves what many Prestige sessions of this era have proved before: If you have Mal Waldron in your group, you're well advised to ask him to bring some tunes along--you can't go wrong. "Minor Groove," "Blue Echo" and "The Gospel Truth" are all Waldron.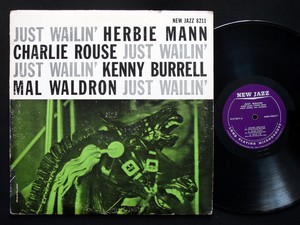 Kenny Burrell, no slouch as a composer, contributes "Blue Dip." And he also contributes some first class playing.
"Jumpin' With Symphony Sid" is the Lester Young standard, and my favorite on the album because I'm a sucker for the classics. But for other reasons too. Burrell hooks the listener immediately with his first statement of the head, and then they go through it again with a guitar-flute duo that's if anything even catchier, then solos by all four of the principals, each of which captures the swinging qualities and the boppish qualities of the tune. Jazz aficionados listening to this track will definitely not think they're listening to Lacy.
And they wrap it all up in three and a half minutes, which should have made it a natural for release as a single, but didn't.
There is a side trip into what would come to be called World Music, with a composition by activist composer
Cal Massey
, "Trinidad."
Order Listening to Prestige Vol 2
Listening to Prestige Vol. 2, 1954-1956 is here! You can order your signed copy or copies through the link above.